Refurbishment services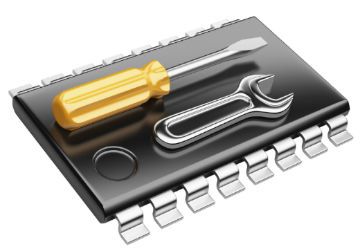 Assembly & Component Refurbishment Services
Assembly Refurbishment Service
In today's busy wafer fab, refurbishment of assemblies is an expensive and time consuming operation, involving the disposal of toxic materials. This work is often carried out by equipment maintenance personnel. IBS offers a turnkey solution that reduces the burden on the maintenance staff and increases productivity.
IBS assembly refurbishment group technicians are highly skilled in the refurbishment of assemblies from all main implanter OEM's, Applied Materials, Axcelis, and Varian. We are able to refurbish to the original OEM specification, customer requirements and also IBS in-house procedures.
Once the refurbishment is complete all assemblies are subject to rigorous testing including; Helium leak tests, mechanical movements testing, electrical testing, insulation testing (up to 5mV). We also are able to condition each source prior to return using our Krytek™ systems so reducing source out gas times on reinstallation to the system.
When coupled with IBS parts the assembly refurbishment procedure becomes a streamline maintenance process with one invoice including all parts and labour. Therefor reducing spares/stock requirements and reducing workload of stores and purchasing personnel.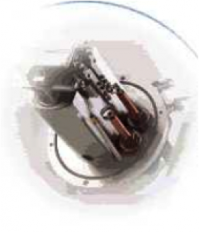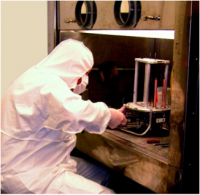 Bushings
As part of the program, we offer a comprehensive repair solution for all ion implanter bushings, accelerator tubes, Quadrapole's, whether the bushing has been damaged by arcing, scratches, dropped, IBS is able to repair 99% of damage, or offer a replacement solution.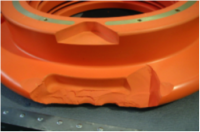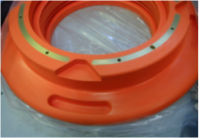 Disc/Wheel Hardware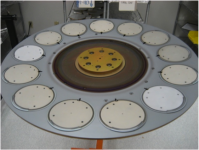 IBS repairs and refurbishes all legacy and advanced technology ion implanter discs and components, including those from Axcelis, Eaton, Applied Materials and Varian.
Warranted by IBS our repairs and refurbishment meet or exceed the Original Equipment Manufacturers specifications. Utilizing our experience and developments in cleaning, elastomer and silicon coating technology.
These advancements often result in:
Superior wafer colling
Longer coating lifetime
Better contamination control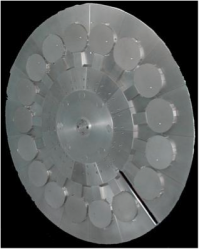 In the case of some disk types (Varian VIISion and Applied Materials), separate pedestal/heat sinks can be refurbished.
When a full disc requires refurbishment, the disc is completely disassembled, inspected and a assessment of the repairs required is produced. Before the refurbishment process is started, the customer is made aware of the costs and what is repairable and what needs to be replaced. This way you only pay for the work required and stay fully in charge of the costs.
After final assembly and balancing, the disc and parts are inspected, cleaned an vacuum bagged in preparation for shipment.
Ferrofludic Seals
Over the years the ferrofluidic seals on tools can wear and will need repaired or replaced. This can be costly and incur extended down time
IBS Offers repair, service exchange and new ferrofludic seals for Applied Materials, Axcelis, Eaton, and Varian Ion Implanters.
Repair & Service - 

IBS offer a full worldwide repair service for magnetic liquid feedthroughs and subsystems. All feedthroughs returned for repair are completely disassembled, inspected and the cuase of the degradation determined. They are then fully refurbished and parts replaced where necessary. The repaired feedthrough will always be fully tested and is returned with a full warrant.

 
Service Exchange - 

IBS offers a unique service exchange program were IBS a full refurbished assembly. The failed assembly is then returned to IBS to be refurbished and then put back into the service exchange loop, so decreasing downtime. Without the additional cost of carrying a spare seal.